Quote of the Century - the 19th!

"Of all the forces of nature the wind contains the largest amount of motive power – that is, power to move things. Take any space of the earth's surface – for instance, Illinois – and all the power exerted by all the men, and beasts, and running water and steam, over and upon it, shall not equal the one hundredth part of what is exerted by the blowing of the wind over and upon the same space. And yet is has not, so far in the world's history, become proportionally valuable as a motive power. As yet the wind is an untamed and unharnessed force; and quite possibly one of the greatest discoveries hereafter to be made will be the taming and harnessing of the wind."

Abraham Lincoln, Bloomington, McLean County, Illinois, April 6, 1858.

Abe was on to something!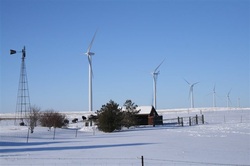 Wind farm in Iowa for which we provided resource assessment analysis.

---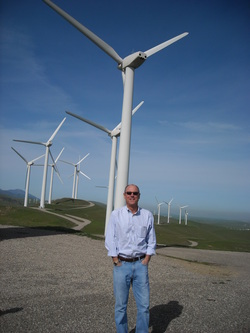 George Hardie of Pattern Energy by MWT 1000A at Buena Vista Wind Farm, Altamont Pass, CA.

---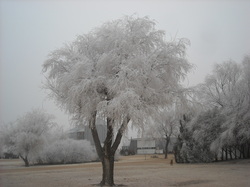 Ice fog accretion on trees in Kansas, March 2011. The previous day the weather was sunny and temperatures in the low 70's. The day after was much the same, but this day was frigid!

---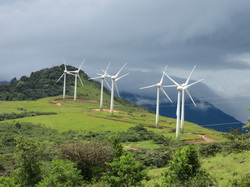 Enercon E44's at La Gloria (PEG) project in Costa Rica. Cerro Mogote in the background.

---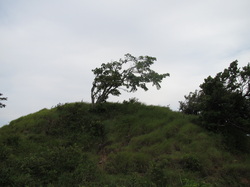 The requisite flagged tree. This one is at a site in Costa Rica, one of the windiest places on Earth.

---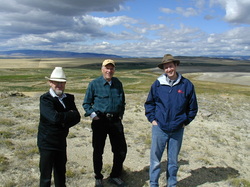 Pete, Van and Matt Hendrickson (formerly with Horizon/EDPR, now at Vaisala/3Tier) at Martinsdale Colony, Montana.

---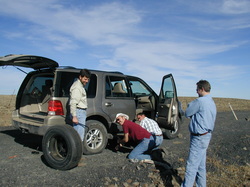 Changing out a flat tire at Wild Horse project near Ellensburg, WA. Mike Kelly helps while Matt Hendrickson supervises.

---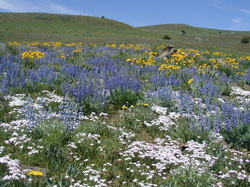 Wildflowers at Pah-Rah Mt, NV.

---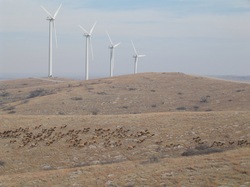 Micon NM72's at Blue Canyon I, OK. A herd of elk migrate in the foreground.

---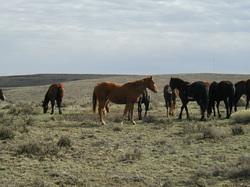 Wild horses at Wild Horse project. The irony!

---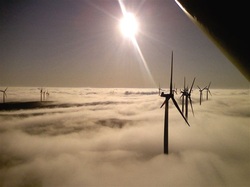 Wind turbines protrude from fog. Undisclosed location, but what a cool shot!

---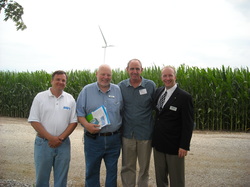 "Windmill Bill" Whitlock, Doug Jones, Jack and Andrew Young at dedication of Horizon (EDPR) Railsplitter IL project. Jack prospected this site for Horizon.

---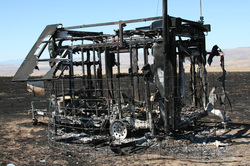 This is what's left of an ART SODAR after it got caught in a range fire at a site in Oregon.

---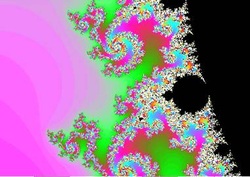 This is a small portion of the Mandelbrot Set, the god-mother of all fractals. The whole of the Mandelbrot set is depicted in the RAM Associates logo and symbolizes the fractal nature of the atmosphere - the cascading eddies of large circulation patterns that are replicated in smaller eddies down to turbulence and eventually Brownian motion of molecules. Or as Lewis Fry Richardson put it, "Big whirls have little whirls that feed on their velocity, and little whirls have lesser whirls and so on to viscosity." The self-replicating patterns of the Mandelbrot set, observed as one zooms in to smaller and smaller regions of the main set image, are both haunting and beautiful. To see more images, click
here
.
---